Our long weekend away to the Luckett's Spring Market, Leesburg, Maryland, and other points North and surrounding countryside was just so much fun. Just look at the line in that photo and that's not even half of it plus there was another entrance. But the wait wasn't too bad and then we were off! We decided to hit the Design House first before it filled up with people and it was hard to see or get around. Good idea! Because we were practically the only ones there for like.........uh....ummmm....maybe 15 minutes. :) If you are ever up this way, you absolutely must come see the Design House at the Old Luckett's Store. It's inspiration overload and just gorgeous. Before it got packed with shoppers I was able to take some photos for you.
Design House is a fabulous old home. This is looking out the front door to the garden and yard, across the street and beyond. The countryside of Loundon county is so pretty.....rolling hills with horses, sheep and cows. The kind of antique bucolic painting I am always on the hunt for. :)
One end of the front porch.........how inviting is that?
The other end of the front porch. That's my sister looking at that gorgeous aqua / turquoise vase. Think she bought? yep! :)
Using a soothing, soft and serene pallet for the summer, with some light greens and aquas, I was captivated with each and every room. This old fireplace with the painted scene and then the huge scalloped shell in front was one of my favorite scenes.
These pieces are new but so like our beloved white ironstone and whiteware. This vignette is simple and elegant.
Don't you love this bed?!! And the fleur-de-lis chandelier adds a French touch to the room along with fun and whimsy.
Another bedroom I could live in.......a hide-away spot for sweet dreams and day time thoughts
I saw inspiration in this vignette for a future project. Any ideas what it might be?
This wasn't at the Design House but in the side yard of a shop in the quaint little town of Leesburg, Va. But I had to photograph it for another future project and to show you......maybe for my beach house one day. :) A seashell covered birdbath.
And what did I buy there? The very first thing I spotted!!! I needed more dishes like a hole in the head and had decided not to buy but my sister talked me into it. (wasn't very hard) :) And I am so glad I did. I was captivated with the monogram on these old pieces. "L" for my name, "G" for my husband's, and my maiden name starts with a "M" and my married name starts with "W". So I figured that monogram was close enough. :)
The gorgeous vintage flatware, knives and forks, with mother-of-pearl handles and ornate rose motif silver barrel handles have just been listed on the website and the French torchons or vintage tea towels, sourced from the Paris brocantes, will be listed in the next few days.
~~~~~~~~~~~~~~
Always delighted to have you stop by and visit. Would love for you to join my facebook page and become a follower of the blog.
Until next time xoxoxo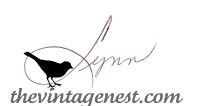 ~ Add Something Special To Your Home ~
your place for affordable vintage flair