It wouldn't be Spring if I didn't take you on a little tour of our home and show you what is inevitable here every Spring and what's new.
I have a natural area next to the screened in porch with very tall pine trees, nandinas, some kind of boxwoods, hydrangeas, and lirope. And it's what I call my bluebird area. I have many houses attached to the pines, some were gifts and some I made. Sometimes I see a flash of that brilliant blue in the trees but they seem to be elusive and rarely do I get a chance to snap a photo.
Until the other day. As I sat at my computer, camera on the desk, this gorgeous creature perched on top of the old umbrella at my work table long enough for me to capture a picture. Made my day!
And speaking of work tables, this old picnic table is where I do my spray painting and lots of website photo taking. But I had a problem with it. I am not supposed to be in the sun, so I could only work here when the trees shaded it. Then, one day I saw on pinterest where someone had put an umbrella on their table. Brilliant! (I am so sorry, .... I didn't pin that photo and don't remember where I saw it) I had an old umbrella and stand so Bobby G. drilled a hole, made some adjustments and voila, now I can open the 'brella for shade and work out here anytime. You can see some projects I am working on, an old wire table and an old flower box. :)
Ugh! Every year I dread this job. Cleaning the pollen laden screened porch off. It involves dragging all the porch furniture out on the deck, which gets harder and harder every year. See the green hose?
yep! It's one of those flexible hoses you've probably seen advertised on television. Getting a kink in a hose drives me crazy so I decided to order one of these hoses...not expecting much. But I love it....it's so light weight and then when you're finished and turn the water off the hose retracts. It works great on my deck.
Ugh! Ugh! The other rite of Spring is painting the front porch. No matter what kind of paint we use, it gets to looking really bad over the winter. I said this year I was going to hire someone to do it. Didn't happen! I thought I had it fixed so Ben, the dog, couldn't get up on the porch until it was dry. Laying on the front porch and watching for squirrels and deer is his favorite pastime. And lo and behold he managed to by-pass my ropes and ladders and get on the porch. That's me, painting over the paw prints the next day. :)
My hummingbirds are back. At least I like to think it's the same ones that return each year. I usually put their feeders up on tax day, April 15, but this year I did it April 1st and hadn't even had time to put the nectar in them, when I saw a hummer. Legend says that hummingbirds float free of time, carrying our hopes for love, joy and celebration.
I have this mirrored lantern on the deck dining table and this little cardinal has become fascinated with her image. Google says she is trying to frighten away this "other bird" that's encroaching on her territory. I don't know about that. I took the lantern away and now she flies at all the windows in the family room. Her partner just sits on the railing watching her. It's like he is just watching her to make sure she doesn't hurt herself, until she gets over whatever her problem is. :)
I found the sweetest large church birdhouse at an antique shop. It was handmade and has a tin roof with a bird statue beside it. We just put it up, mounted on an antique porch pillar, that I found at auction. Two days and bam....a wren has built her nest in it.
I've shown this bicycle before. Bobby G. gave it to me for Christmas one year. I dress it up differently each season. I wanted white impatiens in it this year to show off the white trellis work behind. The old faithful impatiens were hard to find until Kris at The Junk Chic Cottage blog mentioned the disease that impatiens had been hit with and a lot of growers were not producing them this year. I did finally find some, so we shall see how they do.
We have lots of geese on the lake but every Spring just one pair ventures up on shore in the back yard. I am sure their nest is nearby. While she feeds he watches over her like a hawk. It won't be long before we will see the baby goslings between the two of them.
And finally, there's one last thing I wanted to show you. It was such a nice surprise for us this Spring. Two seasons ago we cut down some very large boxwood type bushes (builder's bushes I call them) that were growing just under the deck beside the patio. Beside them was an arbor with a yellow climbing rosebush on it. The bush was there when we moved here, had never ever did much of anything and it sure never climbed at all. Two tall branches was about it and it may have produced maybe 6 roses the whole summer. Well.... this Spring it just exploded and has almost covered the arbor and is just profuse with yellow roses with nice long stems. The top roses are almost to the deck flooring and I am sure within a month the roses will be peeking over the edge. How pretty that will be to see from the family room windows.

I am all packed and ready to head off first thing in the morning to Lucketts, Va. and the old store's Spring Vintage Market. We will also visit Chartreuse & Co., Leesburg and every little antiquey place I see. Looking forward to spending the weekend with some other bloggers and meeting many more. I'll be wearing a name tag (everybody should....remember that episode of Seinfeld? :) If you see me ....let's chat. xoxo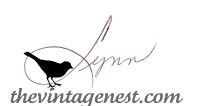 ~ Add Something Special To Your Home ~
your place for affordable vintage flair