O

ne of my sweet readers made the comment that she hoped I was really relaxing this Labor Day weekend...not working like she knew I would be. Well...I took her comment to heart and actually "played" on Labor Day (except for writing this post which is fun play to me :) But I do want to show what went on this past week before Labor Day. These are some signs I made for the wedding party. They were actually Christmas signs, "Santa Please Stop Here", that I found at a church yard sale and revamped. The "parking lot" will be the front field, marked by the signs and the old tractor. The party theme is

S.E.W.

~~ meaning Simple, Elegant and Whimsical. I hope these signs and the tractor will be part of the "whimsey".
The old tractor was put to use this past week. Bobby G. worked hard to get the fields cut before the rains hit tomorrow. See the big old cedar trees on the right. The deer love to hang out underneath them. Makes a great hidey place. My job was to keep him replenished with a big jug of lemonade. :)
I read on my friend Carol's blog, the Polka Dot Closet, how to put graphics on candles (thanks Carol) and made some for my Midlothian Antique Center booth. Bundled up with twigs, old twine and a cloth tag, they make a sweet hostess gift and the simple white color is perfect for Fall decor and into Christmas.
I also bought more white mums.....in fact, I bought every last one our little nursery had. It was hard finding some that had tight buds in them. I don't want them blooming yet. Got those in the ground too yesterday before the rains come. I'm done planting! I also talked to our local produce stand and asked her if she could get me some green corn stalks. I don't want spent brown ones. They have to be a just loosing their summer brighter green color and be more of a tree lichen green. I even took her a paint chip to show her what I am looking for. I thought she might laugh me under the green bean table but she totally sympathized. She had just been through a wedding for her son and knew exactly where I was coming from. Still waiting to here if she can honor my request.
Along with the bird and nest candles for the booth, I did a little redo on it.....getting ready for Halloween and Back to School. I dressed the mannequin in a worn old newspaper pleated skirt. She carries a papier mache skeleton on her shoulder and has a tattered burlap rose at her waist. At her feet rest the new "old" items I took in. I was crazy about this old tartan plaid hatbox. The inside still has the cardboard hat form in it. Makes for a fabulous storage piece and great Fall color. And yee-ha,..... seems I have been running across fabulous old boots lately. This is a vintage child's pair. They sell quickly.
Books, books, books....lots of books. I love them for elevating something important or something that's not so important... made important!. This particular book is my most favorite as of late. It's an old college book with fabulous worn grungy patina and probably 5 inches thick.
Lately, old wood rulers have caught my eye. I love the ones with worn old brass decorative detail on them.
Fun, fun, fun, ......... old wood artist mannequins, used as models for learning to draw the human form. You can twist and bend them into any shape, making for a great decor item.
And I listed some items in the Vintage Nest website shop too. Old animal prints are so popular in home decor now. Cows and sheep and my fave, dogs. This old print of hunting dogs is circa 1940's-50's and signed G. Muss-Arnolt. Housed in the original old wood worn gold frame, the coloring of the print is gorgeous, perfect for Fall. It measures just 13" x 11", making it a great piece for a table top vignette....so French charming.
Grocery shopping, making and baking and freezing casseroles for company, doctor's appointment (good), cleaning, laundry, poufing the Romantic Roost, making favors, hunting down real white pumpkins, painting fake pumpkins white, wrapping and shipping, thinking about Christmas......that's what I did this week....then I rested today (well kind of) :) How was your Labor Day? Have a glorious week! xoxo
Hooking up to these fabulous blog parties and a new one this week.....Honey at 2805 who is hosting Potpourri Friday (can you spell that without looking it up?) I can't. I hope you will visit.
Potpourri Friday at Honey at 2805
Inspiration Friday at At the Picket Fence
Feathered Nest Friday at French Country Cottage
Vintage Inspiration Wednesday at A Very Merry Vintage Style

Open House Thursday at No Minimalist Here
Farmhouse Friday at Laurie Anna's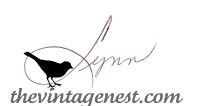 ~ Add Something Special To Your Home ~
your place for vintage flair