D

id I scare you!?? Scared myself!!! Hahahahhahahaha.........
Pretty Halloween Bugs......there truly are some pretty bugs out there.....really!
Bobby G. came proudly clutching a hand full of "weeds" he found while cutting the front field back in early September. Of course, I loved them. I nestled them in the haystack garland by the front door and not long after these gorgeous black and orange Halloween bugs appeared, clearly relishing the beautiful pods on my weeds. Research revealed the pretty greens he had brought me were milkweed pods and the fascinating insects .... milkweed bugs. Totally harmless.....so i have let them live on my Halloween front porch decor. How apropos.....wouldn't you say?
Thank you Beverly, of How Sweet the Sound, for hosting our fun Pink Saturdays and for letting me turn my

Pink Saturday

into Orange. However you celebrate Halloween, have fun, and turn on the lights because I may just show up at your door. Until next time....xoxo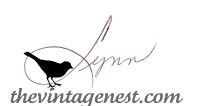 ~ Add Something Special To Your Home ~
your place for affordable vintage flair