I like to keep my blog as light hearted as possible but today I am asking for a special favor. My big sister has contracted a very bad and rare bacterial infection. It has not responded to the serious cocktail drugs they have been given her so tomorrow she will be under going a lung removal. She is at Duke Medical Hospital, a very fine facility and will have the surgery in the morning. I will be there. I know first hand the wonderful and kind hearts of this blogging community. Please keep her, her surgeons and the health care workers in your thoughts and prayers. Thank you all. xoxo
~~~~~~~~~~
I baked this apple pie for Bobby G. last week. Baking pies is not my forte so I was pretty proud of this lattice topped mile high apple pie. Want to learn how to weave a lattice topping like this one? It's easier than it looks. Go HERE. Thank you Simply Recipes.
~~~~~~~~~~
Today, I am honored to feature a guest writer on my blog, Christina Johnson associated with luxurious Manhattan rentals.. Enjoy!
Home decoration that follows the seasons requires that you change up your décor as the seasons change. When it comes to decorating for the fall, having a tasteful design and using decorations tastefully makes the home feel welcoming and pleasant. A few simple décor ideas can help improve the way a home looks and make it feel comfortable.

Use Fall Fruits and Vegetables: Fill up a wooden bowl with fall apples, small pumpkins and nuts from the season. Fall is a time when fruits and vegetables are harvested and it is always appropriate to decorate a table centerpiece or a side table with the fruits of the season. Using a wooden bowl provides a more rugged fall look that suits the vegetables and fruits.
Add Fall Accent Colors: While you might not want to change all of your furniture for the season, adding accent colors for the season with orange, red and yellow pillows and brown or tan throws can bring more earthy colors into your home without adding high expenses or requiring major changes. Instead, it brightens the room and makes it look lively.
F
ill Vases
with Leaves: During fall, fewer flowers are available and you might not like the available seasonal flowers. That does not mean you cannot use seasonal plants to fill up your vases and bring color into the room. Instead of flowers, cut some maple branches or other tree branches that are changing color and put it in the vase instead. You will bring some life into your home and bring in those beautiful bright colors seen on trees around the country.

Use Natural Fabrics: When setting the table for gatherings during fall, use a natural fabric table cloth like linen or cotton. Combine that with natural fabrics for napkins. Natural fabrics are not only more environmentally friendly materials for the decoration, but it brings an earthy tone to the setting. The final result of this type of decoration on the dining table is simple elegance.

Rustic Look: To create a rustic look for an entry way decoration, a table centerpiece or a decoration to place throughout the room, filling a slightly battered metal jug with fall leaves, twigs, berries and other seasonal plants can make a rustic statement. Complete the look by adding some pumpkins around the jug.

Fall designs are not challenging to incorporate into any home décor design to make it feel cozy. In fact, adding some fall colors to the room via pillows, throws, vases filled with plants and creative centerpieces will make your home welcoming and comforting this season.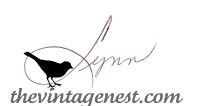 ~ Add Something Special To Your Home ~
your place for affordable vintage flair