Although I am not ready to give up my flip flops just yet, this cool, crisp Autumn weather has put the vim and vigor back in my step and infused a little "let's get out and go" to my senses. We have a charming little farmer's market out here in the country but I had heard about a market in "the city" and decided to check it out. And we were not disappointed. The 'South of the James' market is located just inside Forest Hill Park in Richmond, Va. and has become the place to go for local goods. The park is a historic 105 acre urban park and there were lots of strollers with dogs in tow. The fall colors of Autumn's bounty were everywhere including our beloved

pink

. Bobby G. and Ben quickly found our breakfast.....the gooiest best cinnamon sticky buns. We made short work of one and bought another for Sunday's breakfast. They have an online site if you want to check them out. grammyos.com Entering the top of the market, you are greeted by the soulful old style blues of Markiss Blowfish. Various street performers and music are plentiful and puts an extra little step in your walk. Gorgeous pumpkins and gourds, warty and bumpy and in an array of fabulous colors. I picked a white one with just a hint of orange and gray green one for my Thanksgiving porch. Now I have to confess I have never cooked a turnip in my life but Momma did and I loved her turnip greens with chopped up turnips in them. I wonder if I can talk her into cooking some for the Thanksgiving groaning board. Huge sweet potatoes were sold by this vendor. I love to just pop one in the oven, baking it until soft. Let it cool, cut into rounds, top with a mixture of sugar, butter, cinnamon and pecans and pop back in the oven for a bit. Yummo! Yep....you know I had to buy a few sunflowers for a Fall arrangement. Love their happy faces. This lady had made some fabulous fall wreaths, mostly from dried hydrangeas. There's that

pink

again! :) You really can't tell in this photo, but these were the biggest green beans I had ever seen. I bought a pound and later that day, tossed them in some olive oil, salt and pepper and roasted them. This has become our new favorite way to serve these morsels of green goodness. Guess what else I bought? Our Thanksgiving breads. Who could resist chocolate zucchini, walnut pound cake and pumpkin pecan? I won't tell if you don't that I didn't bake them myself. :) The same booth, Rockahock Farm, also made the very best cheese straws I had ever tasted. Now, I have to tell you I am a connoisseur of cheese straws and crackers. I make my own. But these were the cheesiest, of someone else's I had ever tasted. I forget to take a photo of them before we had devoured most of them, eaten with a bowl of brunswick stew. As a rule, I don't buy clothes at a farmer's market, but please meet Irina of Imagine That designs. She had the most gorgeous hand crafted, repurposed sweaters I had ever seen. I wanted so many of them, settled on the gray leopard print one and plan on buying the

pink

one. Her designs were spectacular. She used vintage cashmere sweaters combined with newer prints. I oohed and aahed. She doesn't have a website yet but you can find her on flicker here. http://www.flickr.com/photos/imaginethat-tm If you see something you like, just email. Big Steve of Barham's Seafood furnished and manned the raw bar at our wedding party. Coming from the Eastern Shore and the coast of North Carolina, he offers the freshest and best local seafood around. His tall crab cakes are to die for. At the wedding party his oysters and shrimp were devoured so fast I never even got one. Have you ever had a Stayman's Winesap apple? They are hard to come by in these parts and in our opinion are the best eating apple around. Crisp and juicy and best eaten really cold, they are the best. These particular ones were huge. Bobby G. was delighted to find them and gladly paid the steep asking price. This artist was after my own heart. How could I resist, with a blog and website called The Vintage Nest, this charming painting?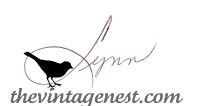 ~ Add Something Special To Your Home ~
your place for affordable vintage flair