W

ikipedia describes French Blue as azure. Really??? Although I cannot describe the color French Blue, I never ever thought of it as azure. Okay.....maybe a softer shade of azure. Never bright! (This is my opinion only) Is it cornflower blue? or Tiffany blue or teal or baby or wedge wood blue? Walking around my home, I took a few photos for you of blues. Is the blue in this still life painting (by my youngest in a high school art class) French blue?
Is it the blue in my window topper?
What about the blue in these pretty boxed soaps?
How about the gorgeous worn blue in my studio old child's trash can?
This vintage modern art work (does that term make sense?) in my foyer has many shades of blue. Do you see a French blue?
Love the blue of this rusty tin box that's heading for my shop.....is it turquoise or French blue?
And then there is this beautiful vintage blue blanket binding. Is it French?
All I know is, I know it when I see it, :) With that in mind I proceeded to paint, my version of French blue, this gorgeous vintage rococo cast metal mirror I found not to long ago. It was an old gold but not the pretty worn "old" gold we love. Much too shiny. I painted it "French Blue", or at least that's what the can said. Then I do what I love to do to my painted pieces......white wash.
After a generous amount of white washing, I then use my "dirty secret"....my secret staining method..... a little flavor of the South. Black walnuts from our tree. The inside of the hull gives a beautiful stain. I also break up the hulls and let them sit in water. This adds a beautiful patina to fabrics and papers. Should you try this method please, please wear gloves. The dark pieces you see in the photo are the walnut hulls.
Before
After
This old mirror, that I just listed in The Vintage Nest

boutique,

is so ornate and just gorgeous. Not only hanging on a wall, but would be stunning just laying on a dining table, topped with cream candles, pretty silver brushes or old perfume bottles. Or maybe some small undecorated cream bottle brush trees for the holidays. A simple and very elegant centerpiece. I hope you like my version of French blue. :)

Tres belle, n'est-ce pas?
Please click on each party below for more decor inspiration. Thank you to all the wonderful hostesses.
Anything Goes at Type A, Potpourri Friday at 2805, White Wednesday at Faded Charm, Whatever Wednesday at Momma Hen's Coop, Inspiration Friday at At the Picket Fence, Feathered Nest Friday at French Country Cottage, Vintage Inspiration Wednesday at A Very Merry Vintage Style, Open House Thursday at No Minimalist Here,
" And I again want to thank each and every one of you who said a prayer and good thoughts for my sister. The power of prayer is a wonderful thing and a source of strength, help, and comfort. I just spoke to her by phone and she sounded strong and very upbeat. She may get to go home in a few days." :)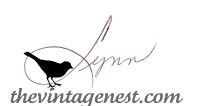 ~ Add Something Special To Your Home ~
your place for affordable vintage flair