W

hew......I don't know about you but either I have had too much spiked eggnog or I am just plain old and worn out. I think it's the latter.......too bad! :) All these blogging parties have been a blast. Problem is, it makes me want to go back home and redo my Christmas decorating. There is so so much inspiration out there! Thanks to our hostesses and all those participating. Today, Sherry of the blog, No Minimalist Here, is having us all to her house for a holiday dining looky. I haven't seen what she has done yet, but knowing Ms. Sherry it's going to be fabulous. I am joining in with a little tutorial and a

GIVE-AWAY

today. I am also joining Tamara, over at the Greenhouse Diaries, for her Great Poinsettia Challenge. Thank you Tamara for this fun challenge. :)
Like the blood shed for me
"J" is for Jesus, my lord,
Years and years and years ago, back when Santa Claus first began, I saw this little item, in Southern Living magazine I think, and kept it filed in the back of my mind. Today, it comes out of that far away region. I thought it was just so cute, easy and inexpensive to create, and a colorful, bright and charming centerpiece or table decor. It would be so cute at a children's dining table, in the kitchen (where I put mine) or to give as a gift.
Here's a little tute on how to make this sweet centerpiece. I chose a small poinsettia and was lucky to find them at Lowe's for 98 cents. Yeah, you heard that right....98 cents. People were buying them up like crazy. Anyway, you could use the original container but I removed mine, because of the lip. I replanted in a used plastic store bought icing container. It's important to punch some holes in the bottom for drainage. I used an old ice pick. You could also just leave the plant in the original container and slip inside another container.
I found my candy canes at the Dollar Store for guess how much?.......a dollar! :) I used 3 dozen but yours will be more or less depending on the size of your container. Then just simply hot glue the candy canes all around. Try to use a container with no rim. Use lots of glue and a high temp. gun would be best. That's it! Easy Peasy! (hint....if you have trouble with getting hot glue on your fingers, use a metal thimble...works like a charm)
To go along with this sweet treat today, I would love to offer a GIVE-AWAY. I was recently sent some cook books to review by Flame Tree Publishing of Fulham, London. I have to tell you, they are truly delightful. Loaded with gorgeous photography of each recipe, as well as tips and hints and fabulous old fashioned prints. Not only will you enjoy the recipes but you could use the images in your art work. :) You will have your choice of either Family Teatime or Grandma's Recipe Treats, each totally charming. Just leave a comment on this post and I would love for you to follow if you aren't already and let me know. I made the Lemon Bars you see pictured here from the Teatime book. Aren't they pretty? They are not real real sweet and perfect for tea time or breakfast. I will be serving these at Christmas. I look forward to seeing you and don't forget to sign up.

Family Teatime
, edited by L.K. Bulbeck and published by Flame Tree Publishing, is priced at £9.99. For more information please visit the Flame Tree Website
Grandma's Recipe Treats
, edited by L.K. Bulbeck and published by Flame Tree Publishing, is priced at £9.99. For more information please visit the Flame Tree Website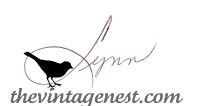 ~ Add Something Special To Your Home ~
your place for affordable vintage flair