It started when she was born .....the most gorgeous baby (I am not prejudice or anything like that :) with the sweetest rosebud mouth you have ever seen. My first grand-child…a little girl. I bought a little pottery baby shoe planter in a soft pink to commemorate her birth.
First there was one, then two....then a collection was "born". The hunt was on! These charming little mid-century shoes in soft pastel matte colors of pink, blue, yellow, green, and creamy white, were filled with a tiny plant or floral arrangement and given to mothers of newborns during their hospital stay. The 1940's was when I was born, so collecting these sweet baby shoes held a dual purpose and I now have 35 plus of these charming pieces of history .
That's how it starts, with just one simple item. It may be something that just simply catches your eye, piques your interest, or captures your imagination, or, like me, celebrates a special occasion. The spark is ignited and the passion is born and you set out on what may become a lifelong quest.
There are books on anything you may want to collect, from inexpensive matchbooks to fine French antiques. Some collect for profit while others collect simply for the pure joy of it. It's an intriguing hobby that can bring history to life. And we don't stop the hunt just because whatever we collect is not in vogue at the time. In fact, collecting while certain items are not popular may be the best time for you since prices are down and demand is low. Some spend a week's vacation on a hunt for a special item, while others, like me, are just delighted whenever they may serendipitously run across a piece to add to their collection.
I found this old piece just this past Wednesday while out treasure hunting and enjoying the day with friends. Don't you just love that precious faded pink worn ribbon? Has a sweet hand painted rose on it and that yummy crazing I just love. This one is going on my website in Vintage Baby. How sweet would this be in a new baby's room as a vessel for q-tips and other little one's needs. Until next time.....xoxoxo
Joining these blogs and their fabulous parties this week. Go take a peek at all the inspiration and fun.
and a new party has joined the blogging world, Joy of Savvy City Farmer is hosting Thriftn' on a Thursday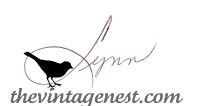 ~ Add Something Special To Your Home ~
your place for affordable vintage flair