~ Still sending apologies for missing your fun posts and not visiting and having my own new blog post few and far between. Still having internet problems. The technician is fit to be tied and so am I! :) ~
Still working on the family room redo. The Louis chair makeover gave cause for my thinner hair, as I pulled quite a bit of it out trying to accomplish my first time upholstery job. I did it!...although in a round about way and I could not have done it without Bobby G's extra pair of hands. I painted and antiqued it with AS dark wax.. and I said I thought I would recover in something monogrammed and worn red but I went totally the opposite. Think chiffon, satin and burlap and birds. :) Just a little sneak peek for now. Not quite through yet. :) I love it! and think you will too! (one of these days I am going to take a picture of me all dressed up....not barefoot and wearing my Mickey Mouse paint covered pants as I always seem to be :)
With computer time down, I read a book! LOL It was just a beach read but it did have sustenance and I thoroughly enjoyed the down time. Have also spent extra time at my mall booth adding "new" old items, fluffing and shopping other booths...bad! I took some photos for you to see. The pegboard walls are great for hanging stuff but not very pretty. I do have an old screen door as a backdrop, a brown craft paper and lace curtain, as well as a chippy worn trellis but the booth walls still need something! Any suggestions? (see something you want.....email me and we'll talk)
This is one of those "where did you find that!!??" things I ran across a couple of weeks ago on a treasure hunt/buying trip. Oh my goodness! It's amazing and one of those fantasy pieces of furniture. I am not even quite sure where I will put it.....maybe in the master bedroom or maybe I will sell it. Right now it sits in the dining room, next to the old farm table, which I am kinda liking....really. I am just showing the top of the back support here. It's a gold gilt....not painted gold...but gold gilt rocking chair....pretty fancy....definitely French style. It has the most fabulous hand painted scene on the heart shaped head rest and scrolls and carved wood and its shabby and chippy. It's a small rocker.....definitely a ladies chair. Very unique and just fabulous! Did I say fabulous???
It was good to see you today. :) I would love to have you follow my blog if you don't already and if you do....thank you! There are several ways to follow over there >>>> on my sidebar. Until next time....have a sweet week. xoxo
It's always a pleasure to join these wonderful parties.....charming hostess and full of inspiration. I know they will love it if you give them a visit.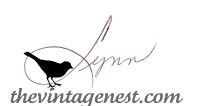 ~ Add Something Special To Your Home ~
your place for affordable vintage flair