Not me.....the weather! (Well...my pool boy thinks I'm hot! :) Ha! Unbelievable hot here! Our 4th of July fireworks celebration on Sunday night turned into the most scary and amazing natural fireworks show I have ever seen. Have you ever seen lightning strike the ground up close and personal? Trust me....you don't want to see that EVER! Despite the 105 temps, no ac and no power (back on now thank goodness) we're having a blast with the family here!
The grand fur babies are visiting too and enjoying the pool right along with the humans! :)
The grand girls dressed in their stars and stripes for a party. Ms. Boo helped her Grand-mama makes these gorgeous confections of red white and blue.
And I hope your 4th of July

h

o

l

i

d

a

y

is a Big Bang lot of fun!
~~~~~~~~~~~~~~~~~
Would love to have you follow The Vintage Nest
It's always a pleasure to join these wonderful parties.....full of inspiration and a charming hostess. I know they will love it if you give them a visit.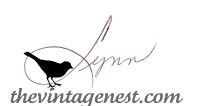 ~ Add Something Special To Your Home ~
your place for affordable vintage flair