dear friends for dinner last night
dined on the porch
sweet gentle rain falling
symphony of the frogs on the lake our only music
a soft glow in the early twilight
the conversation mellow
the coconut shrimp divine
THE FINALE
Banana Split Cake
A fun dessert for a last summer hurrah before the kids head back to school, but heck, fix it anyway. No excuses needed for this oh so good treat.
1 carton (16 oz.) cool whip (softened)
1 cup sour cream
1 package (3.4oz.) instant vanilla pudding
1 - 8 oz. can crushed pineapple, drained
24 graham crackers
2 bananas, sliced thin
Toppings: I used whipped cream, chocolate syrup, more bananas, sliced strawberries, wet walnuts, and a cherry on top :)
In a large bowl, mix the cool whip, sour cream, and pudding mix until blended. Fold in pineapple. Fill a ziploc bag with pudding mixture and cut off one corner of the bag.
On a flat serving plate or baking dish, arrange graham crackers in a rectangle. Pipe pudding mixture over the crackers and top with sliced bananas. Repeat layers. (I only did 3 layers, recipe calls for 5) Cover and refrigerate for at least 8 hours or overnight. Graham crackers should get soft.
Before serving add your toppings to resemble a banana split and loosen belt. :) ♥
~ Would love to have you follow and if you do already, I thank you~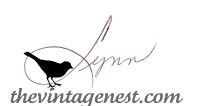 ~ Add Something Special To Your Home ~
your place for affordable vintage flair