I love burlap! I remember the first time I ever used that rough woven, organic, textural, homespun stuff. It was a long long time ago. I was an Indian Princess and the home made costume was of burlap, fringed at the bottom of course, as only the best Indian Princess dresses were. Fast forward to when my boys were just tykes, I used burlap to make Christmas ornaments for our annual church bazaar. We built a whole playground from hundreds of sold Christmas ornaments. I've made footstools out of large ice cream containers begged from the local ice cream stores and covered them with burlap. Ten years ago, I made tabbed burlap curtains for Bobby G's man cave. The texture and weave and color looked fabulous, and still do, with his worn old leather sofa. vintage fishing poles and trophy bass.
Enter blogging and wonderful bloggers and a whole new world opened up of the awesomeness of burlap. And who knew all the amazing things that could be created with old farm feed burlap sacks? Just last summer, I used it on the dining tables at our son's outdoor wedding party. Combined with vintage lace runners on hay bales, white hydrangeas and roses, and simple white candles, the effect was stunning, casual yet elegant. Pair it with naturals like brick, stone, ironstone, cotton, linen, wood, concrete or metal......it works with it all and adds another dimension to a room of creams and whites.
With just a hint of coolness and autumn in the air recently, my creative side has been itching to get going, and recently I created some new items for the shop, getting ready for our Blue Moon sale this weekend. This time I used a vanilla burlap, a more refined rustic to the brown burlap.....so French farmhouse and Nordic. Combined with some vintage elements, they have a bit of fun and the expected.
an antique key and faded numbers add unmistakable charm
an old tin keyhole and some serious fringe shout "look at me"
the lighter side of burlap
and switching gears from the rustic to the posh, I had so much fun creating.........
The Elegant Pumpkin
creamy divine velvet united with elements from the garden
Not yet ready to launch for my website but getting there, I have also been creating some fun edgy neck adornments. Over time, I have added these to my antique mall booth and they have been a hit. Collecting vintage bijoux from all my hunts, combined with vintage metals, hand made paper beads, old time pieces, and nuggets of the unexpected, I am on a quest to liberate the wearer from the mundane.
So......that's what I have been up to. Now I'm cleaning up my mess and taking a few days of down time. We are heading to the ocean. There's to be a very special wedding seaside. Where else can you go barefoot to a formal occasion? I can't wait! xoxo
Helpful Hints:
1. use a wooden chopstick after turning a thick fabric pillow to push the corners out....be gentle.

2. don't fringe burlap over your computer keyboard.....bad idea! :)
Let's Party!
Shabbylicious Friday at SAB
Feathered Nest Friday at French Country Cottage
Tweaking at Cozy Little House; Vintage Style at Knick of Time
White Wednesday at Faded Charm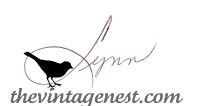 ~ Add Something Special To Your Home ~
your place for affordable vintage flair