It's your first time at an auction. You clutch that little numbered piece of paper tightly in your hand. You've walked the grounds and spotted something so special, ....you've just got to have it. It comes up for bids. You look around. Does anyone else want it? Do I look like a novice at this? Do I wave my number furiously or believe what I've read and just make a tiny movement of my hand by my ear, with the auctioneer knowing I want to bid the next increment up? This is sooo scary!
As I sit here this morning, on my new almost finished deck, in my online auction bought glider, rocking back and forth with the most glorious cool breeze blowing, I am reminded that there are all types of auctions. On line auctions that might sell coins or a site that might sell jewelry online or fine art. Last Spring I won, via a local on line auction, this charming vintage garden hand made glider complete with a cut-out heart, I am sitting in now. There are estate auctions where you might find some fabulous furniture, high end house auctions selling fine antiques, and recently I have seen advertisements for trunk auctions....something I am thinking of doing instead of a yard sale. That's where you bring your items to the auction, maybe in the trunk of your car or the bed of a truck. Everyone just lines their vehicles up in a row and the auctioneer comes around and auctions your items off. But what if know one bids on my stuff? How embarrassing would that be!
But my favorite auctions are the country farm auctions, mostly what I attend. They are laid back. It's like a social party, as I see many of the same people each time I go. The auctioneer knows me now and even knows what pieces will appeal to me and will glance my way when a particular item comes up for bid. I went to one last week. This auctioneer, over the years, has replicated an entire old town on the site where he holds most of his auctions. There's one tiny building/house that I just adore. I have told him (about 1,000 times) that some day I want to have a little antique shop in this house. The entire little town would make a fabulous destination spot. Today I am showing just a few of the buildings but one day I will do a post on the town he has built, including collections of old cars and trucks. You have never seen so many antiques in one spot in your life, each building filled to the brim. But today, I just wanted to show you what I shot my hand up and bid on last week. :)
The little house I would love to rent for a sweet shop........(but you wouldn't catch me using that outhouse. My grand-mother had one and I was always so scared to use it as a little girl. :)
The owner of the auction company has built this large pavilion, so in bad weather the auction still goes on. :) That's me in the background wearing black. :) I wear black, hoping no one will notice me...(just kidding).
Lots of guys and hardly any of them looking for my kinda stuff! The Wednesday morning auctions are like that.
Loving those cast iron chippy white garden chairs. Somebody else won those that day. You can tell by the trees that I took these photos late last Fall.
This old oil painting is from the 1800's and was just exquisite. A little girl and her dogs, painted by a very accomplished artist. Unfortunately, the canvas is badly torn and needs major restoration. I also loved the deep, very ornate worn gold frame and may use it as a head board. Even with the painting in bad shape there was still a bidding war between me and someone else. I won, as you can see. :)
A lot of people kept looking at this old piece of linen before auction time. I kept starring at them, trying to convince each one by telepathy they really didn't want this ratty old piece of fabric. It worked....it's mine now. I fell in love with it at first sight and have special plans for this fabulous patriotic piece of memorabilia someone painstakingly crocheted. The white has mellowed to the perfect old book page color.
I paid a little more for this vintage Italian tole chandelier than I really wanted too. As can happen a lot of times, you tend to get caught up in the bidding process and convince yourself that an item is a must have. I haven't decided whether to keep this one or sell it yet. :)
This is the way to my favorite auction. Have you ever been to one?
disclosure policy: this is a sponsored post and I was financially compensated. The opinions are 100% completely my own, I hope fun for the reader, and based on my own entertaining experiences.
I would love to have you follow The Vintage Nest and if you do already, I thank you. ♥
Sometimes I sneak out of the house and join these wonderful linky parties. Please visit them if you can. You will find some amazing inspiration and new friends. :)
sweet Beverly @ Pink Saturday, Potpourri Friday @ 2805, Feathered Nest Friday @ French Country Cottage, Open House Thursday @ No Minimalist Here, Kathy's Home & Garden Thursday @ Delightsome Life,White Wednesday @ Faded Charm, Tuesday's Treasures @ My Uncommon slice of Suburbia, Vintage Inspiration Friday @ Debra's Common Ground, Tuesday's Cowgirl Up @ Farmhouse Porch, Inspirational Friday @ The Picket Fence,
Friday's with Junkin Joe
and Friday's Shabbilicious at KerryAnne's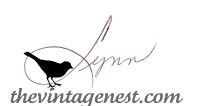 ~ Add Something Special To Your Home ~
your place for affordable vintage flair