.......not a pretty title today.....but somebodys gotta' do it.:) No fabulous old vintage items, no pretty Autumn decorated front porch, no pretty chair makeover......just.....
Having replaced just about everything you can replace in a house in the last 10 years here at the farmette, we are now ready to start some remodeling projects. Our upstairs hall bath may be the first make-over........soon as the budget allows that is! In the meantime...... the poor thing is stuck in the 80's with its blue tub and tile and dated vanity and fixtures.....ugh! BUT...there are some good things about it. I love the vintage vibe going on with its hex floor tile But that grout!!!! The years have done a number on it and no matter how many times I have scrubbed and bleached, it's not coming clean. Then I tried this: Grout Refresh
A product I heard about from a friend and found at Lowe's in the floor department. I am embarrassed to show these photos but it is what it is. And I'm hoping I can help others out there with the same problem.
You need:
the product
a pretty sparkly old toothbrush (you can use your husband's) :)
a worn old towel (to fold up under your poor knees)
a mop
an old wash cloth
spray bottle
It's small....just an 8 oz. bottle and I thought there was no way that was enough to even do my tiny little bathroom. Comes in an array of colors. I used pure white.
Clean floor thoroughly. (good grief!...I think I could use a new mop!) You can see in this photo, how badly stained the grout is in between the tiles.
Spread the product evenly on the grout using the toothbrush. Here's where I messed up. It's Okay to go outside the grout lines but I went outside way too much and I did it too thick (but it still worked just fine). I thought this part was going to take me forever but it only took about 30 minutes. Let the application set for 30-60 minutes. I did 60.
Mist lightly with water. Let set for 15 minutes, then scrub the excess colorant off GENTLY. This is where I made another mistake. I rubbed way too hard and lifted some of it off. But the fix was easy. I just went back over the lifted places again with the toothbrush using just a tiny bit of the colorant.
And voila! nice bright white tile and grout. I was very pleased with this application and plan to use it in my other two white tiled baths also. There was quite a bit remaining.
Okay....I couldn't let this post be all about the bad and ugly. There is some good in this old bathroom and it involves zinc buckets and vintage and new and modern. We use a vintage child's wicker rocker as a magazine rack. A trompe l'oeil (fool the eye) scene was added on one wall of this plain Jane room to give it some interest and tie it in with the 80's blue tub. :) It's supposed to look like a hole in the wall and a dove has nested on the ledge. A shabby white wire planter sits on top with a flaired zinc planter, filled with a philodendron. The greatest plant in the world when you have a darkish room. :)
Any my very modern fabric covered custom valance board. I found this at an upscale consignment shop and it worked perfectly in this room.
So
there you have it. An easy fix for what seems like a daunting problem.
(P.S. I was not compensated in any way to write about this product. I just found it on my own and wanted to share it with my readers)
~~~~~~~~~~~~~~~~~~~~
If you haven't already, I would love to have you sign up for my sweet give-away right here. A $75.00 gift card to the fabulous boutique Shabby Apple. There's still plenty of time.
~~~~~~~~~~~~~~~~~~~
Always a pleasure to join these blog parties. It's fun and I thank the hostess of each one. :)

Wow Us Wednesday @ SSS, Metamorphosis Monday @ BNOTP,
Shabbylicious Friday at SAB
Feathered Nest Friday at French Country Cottage
Tweaking at Cozy Little House; Vintage Style at Knick of Time
White Wednesday at Faded Charm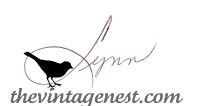 ~ Add Something Special To Your Home ~
your place for affordable vintage flair