Up early this morning to bake a punkin pie. House smells heavenly
Sure hope it taste as good as it looks. It's a

skinny

pie. :) Does that mean I can eat all I want? I got the recipe from Jen of Our Southern Table blog. Thank you Jen for your perfected recipe :) I tried to get fancy with dough leaves off to the side. Not sure I got it right! :)
While the pie was baking, I went outside to gather something to make an arrangement with. Other than the usual mums and orange flowers, I didn't see much at the grocery store yesterday, so thought I would make do with what was in the garden. Since our last hard frost, pickins' are slim. I ended up with baby pine cones, the last of the Dusty Miller, some cedar, and dried hydrangeas that were still on the bushes. Not bad....do you think? I have a number of vintage boxes I have collected over the years, one of my favorites being this Wheat Bread box. Love the rustic with the elegance of the old silver champagne bucket.
One of my favorite things I have done in the family room is add the "Blessings" script on the wall over the bay window. Every time I look at it, I smile.
~~~~~~~~~~~~
Blessings to you and yours this Thanksgiving.
~~~~~~~~~~~~~~
And adding to my "Gratitude" list today:
Nov. 13th - I am grateful for fabulous neighbors
Nov. 14th - I am grateful for a wonderful hairdresser :)
Nov. 15th - I am grateful for the chance to ride a train
Nov. 16th- I am grateful for the smile that greeted me
Nov. 17th - I am grateful for working hands that can paint
Nov. 18th - I am grateful for time with my grown children
Nov. 19th - I am grateful for my new phone & someone to show me how to use it
Nov. 20th - I am grateful I can see the beautiful new moon
Nov. 21st - I am grateful for you
Nov. 22nd - I am grateful for my beautiful sisters, handsome brother, young Mom, sweet daughter-in-laws, adorable grand-girls and the sweet pea on the way, precious sons and my Bobby G.
~ Don't forget my give-away going on through the month of November. All comments are eligible for a chance for my give-away of a year's subscription to the beautiful digital French magazine Belle Inspiration. You can read about here. Love to have you follow my blog and facebook. xoxoxo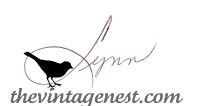 ~ Add Something Special To Your Home ~
your place for affordable vintage flair
~ Hope to be joining in on these fabulous parties this week ~
Shabbylicious Friday @ SA

B

,

Tablescape Thursday @ B

etween Naps on the Porch

, Blissful White Wednesday at Time Washed, Home Sweet Home Friday @ the Charm of Home, Inspirational Friday @ the Picket Fence, Nifty Thrifty Tuesday @ Coastal Charm, A Favorite Thing Saturday @ Mockingbird Hill Cottage
, Feathered Nest Friday at French Country Cottage; Open House Thursday @ No Minimalist Here ; Vintage Style @ Tuesday's Knick of Time, Cozy Little House "tweak party" Tuesday, Pink Saturday at How Sweet the Sound, Vintage Inspiration Friday at Common Ground,
Wow Us Wednesday at Savvy Southern Style