The scent of tiny faded flowers is intoxicating
sweet vintage found mismatched saucers
European in maker and so dainty, romantic & shabby
cherished for their imperfections and worn gold gilt
classically feminine blossoms ....
perfect for bridal showers, garden parties, favors
and so easy to make your own
I have hearted the pretty personal dessert / cupcake stands I have seen on the internet but buying enough for a small dinner party was very pricey so on my treasure hunts I had been picking up pretty vintage plates and berry bowls to make my own.
Worn and faded edges of gold gilt and years of utensil marks are okay but make sure they are free of cracks and chips
I carried one plate around with me for a long time, placing it on various bases I would find to use as pedestals. My favorite ......$1.00 clear glass candle holders found at The Dollar Tree
I used Duco cement as the bonding agent. It's a multi-purpose household glue for china, glass, plastics, wood, metal and crafts. It holds fast and quick but still gives you a few minutes for placement. I really like it. I marked the bottom of the plate with tiny marks as a guide where to place the base. And that is it. Cost each: $3.00. Pretty easy and you have a very charming one-of-a-kind dessert stand.

Such a sweet gift to present to a friend with a very special cupcake on top.....one candle maybe for a birthday. :) Mother's Day, Easter, the first day of Spring is coming......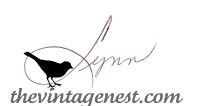 ~ Add Something Special To Your Home ~
your place for affordable vintage flair