D

o you love the scent of hyacinths as much as I do? As I pass through the family room, I catch a whiff of that heavenly smell. No candles needed to perfume the air when you have this sign of Spring sitting in a pretty bowl.
Last week, undaunted by a late pretty winter snowfall, (until it knocked out our power than it wasn't pretty anymore) :) I decorated the front porch for Spring. This week, I wanted to share with you some new beginnings inside our home.
Each year I show this piece, but I can't help it. He is one of my favorites. He's very large and sits in front of an antique pansy painting.......very Spring like.
this sweet vignette sits beside the big bunny
Jelly bean??? I love them! In the fancy jelly beans, buttered popcorn is my favorite. In the regular ones, the black ones are my favorite. Not very Easter like is it? :)
When my boys were little guys, I grew real grass in their Easter baskets. Many years have passed since I have done this and decided to do it as a centerpiece for our Easter table this year. If you want to try it, I think you still have plenty of time. I got this 2 foot tall papier mache rabbit at a yard sale and he had the basket on his back.....a perfect container for growing the grass. Line your basket with a plastic bag, fill with potting soil and top off thickly with some grass seed. Keep it moist but not wet wet, cover with saran wrap until the seeds germinate, and give it some sunshine. My grass came up within two days. Then remove the plastic wrap and keep it moist. Mine has gotten so long, I will have to give it a trim before Easter.
Back out on the porch, I decided I wanted a sign of some sort for a vignette. Bobby G. painted this for me this week, using an antique penny postcard as his inspiration. I adore it! I used an antique simple frame to crudely house in it.
A snowstorm on Wednesday and temperatures in the low 70's today. Ya gotta love it! I took advantage of the teaser warm weather to work outside and started on another Spring project. As soon as the first leafy green buds show on the ol' dogwood tree, I'll show you what I did. :) (teaser)
Have a glorious week! and I'll see you next time. xoxo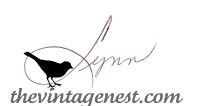 ~ Add Something Special To Your Home ~
your place for affordable vintage flair