T

he color red occupies a very important place in the French provencal tradition. And I try to incorporate this timeless feature in my own kitchen. Have I ever showed you my kitchen? Non?
T

his post was inspired by Francie of the blog, The Scented Cottage. Francie and I did Luckett's together and the surrounding countryside (along with getting lost and driving in circles...thanks to my awesome navigational skills ha!....love ya. Francie girl! ) What fun we had! On our drive back to my home, we made a stop at a fun antique place, not willing to let the weekend go just yet. They had a barn out back where I think they had just stored everything they had no place for in the shop. Wandering around, I found this charming little red basket. Loved the shape of it and decided it was a great piece for my website. Sorry y'all....Francie said it belonged in my kitchen and she was so right.

So today, you get a little tour of my black and white kitchen punctuated with hues of red. A French country kitchen is warm and casual and may have beamed ceilings, rush seated chairs, wood floors, baskets. open shelving, iron, copper, earthenware, grays, farm life figurines, rustic pieces and open vessels of vegetables.
the sweet little red basket now hangs with other gathering baskets
an antique Victorian carved fireplace mantle has a place of pride over the sink and displays some of my collected ironstone. The piece had been painted at one time and someone had stripped most of it off, giving it a fabulous shabby patina. The dish towel is a vintage French torchon.
open shelving displays our every day dishes and some charming country French red checked plates along with a farm scene toile platter
who says you can't have a painting in the kitchen? I found this gorgeous antique Victorian oil painting in a thrift store of all places. Red strawberries spilling out of a farm basket and displayed in a wonderful ornate very worn gold gesso frame.
a display of antique buttermilk pitchers, old wood advertising box and tins, a tarnished champagne bucket, the quintessential French rooster and even a tin fleur-de-lis crown, make a curious and charming display
another vintage oil painting features a still life of a basket of fruit, painted by my Mom. The alabaster fruit is still in a basket in her kitchen, sitting on her kitchen counter. A French kitchen features free standing cabinetry. This white washed corner pine cabinet showcases my collection of poor man's silver, also known as pewter, and the pig is actually a vintage papier mache piece, once used in a stage play. The EAT sign, fashioned with black and white toile and red polka dots, was made by a fellow blogger years ago.:)
the kitchen chairs are slip covered in black and white country farm scene toile, now very faded from the sun. I love my sweet little red ticking valance, a buy from K-Mart.
I recently received a number of these vintage and antique French torchons sourced from the Paris brocantes and the village of Montfort sur Mel. Some have the wonderful old monograms on them and some don't......all red and white and metis or cotton. These cloths are prized possesions in the French kitchen, last forever, and only get better and softer with age.
Just listed on our website here
~~~~~~~~~~~~~~~~~~~~
thank you for visiting today. If you don't already follow, I would love for you to and like my face book page also. I hope you have a wonderful weekend and sweet week. Mine will be very busy, getting ready for family coming and a trip to the beach and a birthday to celebrate. :) xoxo
Partying at:
Funky Junk Interiors
Ivy and Elephants
No Minimalist Here
Shabby Creek Cottage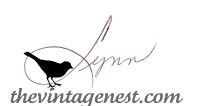 ~ Add Something Special To Your Home ~
your place for affordable vintage flair