Several years ago our pool badly needed to be re-done......yes, that expensive cement fishing hole. :) The entire perimeter of the pool was re-designed, retaining walls knocked down and what flowers and shrubs I had were destroyed in the process.
So the quest was on to add a new garden to one length of the pool, very inexpensively. Yard sales....yep....yard sales were the answer. I had visions of a pink and white garden with some blue so I started with purchased good sized, nursery stock pink spirea in a serpentine pattern. Now, admittedly, this is a long term project and you have to be patient and wait for opportunities to come along.
But I wasn't thinking of yard sales as my source of plants, but when the stores put their stuff on sale. Until one day, I saw a yard sale listed on Craig's List with plants too. And that was the start.
That day I purchased monkey grass or liriope and hosta ....a whole lot of it ...cheap. That lady was moving to Colorado and was selling off everything. That tall spikey stuff you see is another item I bought from a yard sale. That person had a small greenhouse and just enjoyed growing all kinds of plants and then she sold them very inexpensively. I forgot the name of this one, but it has a pinky purplish flower in the Fall, perfect in Autumn arrangements. And it spreads too so you get a lot of bang for your buck. :)
Isn't this hydrangea gorgeous? When it first blooms, it's white, then it turns this gorgeous shade of green. This I bought as a tiny thing from a Farmer's Market over in the next county. This is the first year it's been full of blossoms.
LOL...this came from my own kitchen. A potato spouted in the potato bowl late winter and I let it grow. When Spring came I planted it in the planter at the end of the pool and look at it now.
My daisies......I love them. Another yard sale buy. The lady was dividing hers and was practically giving them away. These have multiplied so quickly and they make fabulous long lasting cut flowers.

My blue hydrangeas (and one rogue orange lily). My two bushes were gifts and they have gotten so big and just loaded this year with pretty blue blooms. The frog on the bench was a Goodwill buy for $1.00. :)
Mint!....this is wild mint and was a hitchhiker from another plant. Mint is invasive and a lot of people don't like it. It spreads quickly. I just pull up what I don't need and let the rest grow. I like the white flower on it and I include stems of it in my cottage flower arrangements for the house. Smells good!
The balloon flower. Isn't it pretty? I am embarrassed to tell you how I acquired this. There was an ad in our little tiny newspaper of a home that was selling all the yard plants. Come and dig up what you want the ad said. So I went. This lady was a high up in the garden club and her yard was phenomenal with gorgeous landscaping. But the couple were in the throes of a divorce (a bad one I think) and she was selling everything including all the yard and garden stock.
I had one purchased crepe myrtle elsewhere in the yard and little ones keep popping up each Spring. I put three of them around the pool and they are quite large now. I just recently found several more and have transplanted those around the chicken's romantic roost and the pool shed. Watermelon red is my favorite color of these beautiful trees.
Not a plant, but it is a garden feature. This past winter I found these West Elm rock tables on Craig's List at half their original price. They were still in the boxes wrapped in the shipping paper. The lady had bought them and realized they just didn't work right for her and they were too heavy to ship back, so now they're mine. With all my vintage and antiques it's my nod to contemporary. :)
The butterfly bushes. How I love them. There are two in the poolside garden, both freebies. I have one bush in the back yard and I guess they were transplanted by the birds and the bees. Lucky me! This one is a magenta color and this picture just does not do the true beauty of the color justice.
And the bees and butterflies are an endless source of FREE joy!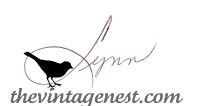 ~ Add Something Special To Your Home ~
your place for affordable vintage flair