Perfect White....Frozen Vanilla....Natural Sugar....Country Cloud....Antique White....Early Blossom.....French Toast.....Classic Creme....Soft Souffle.....Cotton White.....Vintage White....Bisque.....Coastal White.....Coffee with Cream
Living with white......no matter your personal style, white can work beautifully in any home. It's classic, timeless and so easily adaptable. And far from being boring and clinical, white can be combined with an array of other colors to create many environments....from coastal cool to country warm. Whites create comfort and security and sophistication.
Clean bright white did not exist until the invention of titanium dioxide. Before that, ingredients such as lime and lead pigment had been used and combined to create muddy off-whites. Andrea Palladio, creator of country villas in the late 1500's, used a palette of off-whites and grays, (my favorites), known as Palladian whites. Once zinc oxide and titanium dioxide came along, a whole spectrum of whites were adopted by artists, designers, and architects. Whites became synonymous with style, modernism and simplicity.
Actually white is not simply white. What we see as white is a combination of all the visible colors of the spectrum in equal proportions, according to Issac Newton. And it also has the unique property of taking on different hues, depending on the colors and light source around it.
Whimsical whites
Washable whites.....not as high maintenance or impractical as you might think. Now-a-days we have wipe-clean paint surfaces and washable pillow covers and slipcovers.
Is the color enhanced by the white or the white enhanced by the color?
Without texture in a white environment, it all will blend into one and appear flat. By using texture, you add depth, definition, and dimension. In one of my photos, note how the coarse, rugged brick highlights the grain in the beautiful but simple collected birch limbs.
Shades of white.....worn, chalky, neutrals, grays, creamy, neutrals. Each compliments different styles of decorating, whether soft, warm, antiquey, cottage, or country.
Seek out vintage or pleasing architectural pieces, whether intact or broken, to add instant interest and attention grabbing appeal to a white room...original chippy white paint is perfect!
Romantic whites......a simple way to peace and calm in your home......as an escape from the everyday world. I just purchased my flowers for the Autumn and winter season. Simple, sweet white pansies and as the cold approaches, I will add paper whites.
~ WHITES ARE TIMELESS ~
No matter what your decor style, they can work for you. ♥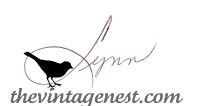 ~ Add Something Special To Your Home ~
your place for affordable vintage flair
Like us on Facebook