For months I have been searching for a rusty old metal patio or outdoor round table top.....something most people throw away and was probably why I was having a hard time finding one. "Why"....you ask, "did I want that?" I had seen a huge clock that I thought was so cool...probably from Pottery Barn or one of those places, but it was expensive. I loved it and thought maybe I could make a replica. It stuck in my head and the hunt was on.
Couple of weeks ago my son and little grand-son came to visit and we traveled to visit my Mom so she could spend some time with her great-grand son. Having just learned to walk, he was running all over the back yard and having a blast. And I was chasing after him and not having a blast. :) I ran behind my Dad's workshop and stopped in my tracks. Lo and behold, there it was, exact size and perfect beautiful rust, .....the piece I had been coveting. Mom was using it to cover her potting soil bucket. She gave it to me and I was giddy as a school girl. :)
It's approximately 2 feet x 2 feet with a 2" lip on it.....perfect! Wanting to keep the raw beauty and patina of the piece, I gently sanded it with a fine grit to remove the tiny bits of icky.
Being the mathematically inclined person that I am, it was easy for me to figure out how to make the perfect circle on the "clock"....NOT. Dear google helped me out here. Using a crude compass of pencil, string and chalk, I made two circles for the painted part of the clock. Wondering about the umbrella hole in the center of the table top? I loved that part. In my mind, that is where the original clock works would have been, but this "old clock" has been in the outdoor elements hanging on the front of a building for so so many years. The clock hands were long gone.
I used two layers of a craft paint called Buttermilk to paint the clock..... a very creamy white.
then it was on to sanding. I did not like the way regular hand sanding was scratching the rust or the electric sander either. So I used a product called Goo Gone Paint Clean-up. After spraying it on a small section at a time, I just wiped the paint off with a soft cloth. Liked that much better.
the clock numbers: To mark the number positions, I made vertical and horizontal ruler lines on the clock face, essentially dividing it into 4 equal parts, thus finding my 12, 3, 6, and 9 number placements. Since it was not to be a working clock, I did not have to be too precise on the other numbers and just eyeballed and marked their placement, but trying to make each number flush with its counterpart: example: 2 would be a counter part to 8. (have your eyes glazed over yet :)
I used 2-1/2" tall vintage style, French roman numeral stencils for the numbers. Once the numbers were on, I was getting pretty excited and really loving this piece.
then it was more hand sanding for a really aged look
lastly, I applied a clear soft wax and a dark wax finish and a good buffing for a nice finish.
VOILA
Am I keeping it? Nope...It's going to Feathernesters

to feather someone's nest this Spring.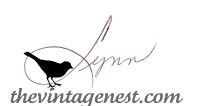 ~ Add Something Special To Your Home ~
your place for affordable vintage flair
~ Parties ~
White Lace Cottage ~ Scoop Tuesday, French Country Cottage ~ Friday, BNOTP ~ Metamorphosis Monday, Coastal Charm ~ Tuesday, How Sweet the Sound ~ Saturday, Common Ground ~ Friday, No Minimalist Here ~ Thursday, Shabbilicious SAB ~ Friday, FMFPTY ~ Treasure Hunt ~ Thursday, DIY by Design ~Wed. Winter Blues