T

here's serenity in the sun and sweet breezes of the seashore
And I return to the Outer Banks year after year, in all seasons, and still cannot wait to go back each time. That slim sliver of sand along the coastline of North Carolina carries my footprints, now erased by the incoming tides, but never my fond memories.
Seeking some calming time from a rough winter, I jump for joy as I cross the bridge and can smell the ocean air miles before I see it. I've ridden out angry seas and ferocious storms and nor-easters and hurricanes. I've ridden the waves and danced on the sand, the only light cast from a million twinkling stars. I've climbed the great sand dunes and collected beautiful gifts from the sea. I've met the incoming fishing boats and eaten the freshest of the fresh seafoods. I've sat many nights by the seashore, beside my father, waiting for the quick tug of a fish on my line and walked hand in hand with my sweetheart, our toes tickled by the incoming tide.
I love being at the beach in the Spring time. The clarity of the sun and the color of the ocean is so clear, unlike the hazy sun of the summer. Days of partying late are over for me with an early morning sunrise walk taking its place, the search for treasures of the sea now my priority. I carry my little yellow sand pale and pink flip-flops as I head for the shore line.
I plan to make some beautiful seashell wreaths with my found treasures soon, a white one, a dark one and a silver one.
Spring temperatures on the Outer Banks change from day to day. Early on in my week of
R & R, it was very windy and chilly. Taking a walk meant bundling up with ear muffs, jacket and a scarf, while later that week, folks were out sun bathing. In this photo, you can see the remnants of a sand dune fence, most likely taken down by a winter storm.
Right in front of my beach front cottage, the surfers were out in droves. I think a contest may have been going on. The waves were perfect for them.
A chair for three by a Manteo restaurant.....having a little fun
A fun place to eat......and then "get out". :)
Much time was spent seeking and buying treasures for my internet shop and brick and mortar. What fun I had! My hunts were successful and I came home with not an inch to spare in my car....totally loaded with goodies for you. This was just from one day of shopping and hunting. :)
One of my favorite finds was this signed painting. A beautiful mermaid and cherubs. Love how the cherubs are blowing the conch shell. The artist was very, very talented and the painting, on board, is about 4 feet tall.
I even found a bit of French by the seashore. As I was walking the tiny historical village of Manteo on Roanoke Island, I ran across this intriguing door, a steep flight of stairs behind it. Oh, how I would have loved to gone through those doors!
Back home now, rejuvenated and full of inspiration. And I give a big hug and kisses to those who filled my days with laughter. You know who you are. xoxo
With a shop website and a brick and mortar space, I don't have as much time to do blog posts lately, but I do hope you will "like" my Facebook Business Page. Each day I post a tiny snippet on what vintage and antique treasures I have found, projects I am working on, and a bit of behind the scenes at The Vintage Nest. xoxo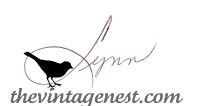 ~ Add Something Special To Your Home ~
your place for affordable vintage flair
Parties
French Country Cottage ~ Friday, BNOTP ~ Metamorphosis Monday, Coastal Charm ~ Tuesday, How Sweet the Sound ~ Saturday, Common Ground ~ Friday, No Minimalist Here ~ Thursday, Shabbilicious SAB ~ Friday, FMFPTY ~ Treasure Hunt