I bought one piece to use as a potting table last year and sold it (to someone kinda famous....how cool is that?) :) and I never got to show it to you. So, I had been looking for something else to use on my deck as a potting center. Back in the early Spring I finally found it......don't shoot me when I tell you the price....$10.00!.... at auction. It's a fabulous old piece that no one else wanted because it needed work and the doors were missing. But that was perfect for me and my use for it. And the color.....how fabulous is that? wonderful old worn green and check out the hardware. I love it and I love using it and I love having all my "playing in the dirt" supplies so handy.
Living on the water, sometimes I find shed pieces like this.....I love them for display
my rusty trusty old gardening utensils
old painted pottery pots, worn and weathered
I seem to be on a petunia kick this year......red petunias in an old carpenter's tote box
petunias under birdcage
I know everyone has a pair of ratty tennis shoes like this...............don't they??!
P.S. You may wonder "why does she need watering cans, when the hose is right there?" And I say, "that's a very good question." The reason is, I love to collect rainwater to water my container plants on hot days. They love rain water so much better than hose water....and that's the truth...blah! :)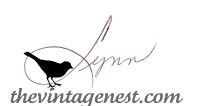 ~ Add Something Special To Your Home ~
your place for affordable vintage flair
Parties
French Country Cottage ~ Friday, BNOTP @ Metamorphosis Monday, Coastal Charm~ Tuesday, How Sweet the Sound ~ Saturday, Common Ground ~ Friday,







No Minimalist Here ~ Thursday, Shabbilicious SAB ~ Friday, FMFPTY ~ Treasure Hunt, WIW ~ Ivy & Elephants, Pin-It @ Glitter, Paint & Glue, Grey Day Thursday at Petite Michelle Louise