I "sat" on this chair for nearly a year before I decided what to do with it :)
ornate heavy carving, curvy, romantic, pink, gold, shabby, chippy, tufted, and ruched
with a feather filled squishy cushion
What's not too like?.... Right?
it had some problems....the pink wasn't the right color and the fabric had seen better days...way better days.
I painted it....everything....the wood and fabric
A creation of the owner, Tony. Named The Painted Nest Mineral Paints
let me tell you, they are fabulous to work with, creamy, thick and go on smooth as lotion.
The paint is housed is these cute little jars, just under a quart and cost is $15.00. Right now, the colors are Robin's Egg, Herb Garden, Buttermilk, Dove Gray and Baby Powder
I chose Dove Gray for this project and after just the first few strokes fell in love with the color.
perfect painting day outside with glorious sunshine and a slight breeze....paint dries fast so I got two coats on in a couple of hours
hint: painting on a dolly cart makes the work go even faster....instead of turning the chair, I just turn the dolly
love love love that ruching on the side of the seat....a beautiful French touch
painting the front side
Even the underside got the royal treatment with a new burlap cover
The Painted Nest mineral paints
the finished product with a settee to match ~ absolutely gorgeous
my space at Feathernester's.....refreshed and repoufed every two weeks....with an ever changing array of vintage and antiques and the unique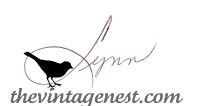 ~ Add Something Special To Your Home ~
your place for affordable vintage flair
Parties
French Country Cottage ~ Friday, BNOTP @ Metamorphosis Monday, Coastal Charm~ Tuesday, How Sweet the Sound ~ Saturday, Common Ground ~ Friday,







No Minimalist Here ~ Thursday, Shabbilicious SAB ~ Friday, FMFPTY ~ Treasure Hunt, WIW ~ Ivy & Elephants, Pin-It @ Glitter, Paint & Glue, Grey Day Thursday at

Petite Michelle Louise