C

elebrate your pride and spirit all summer long with a red, white, and blue flag cookie cake. The 4th has passed but I know many will be having get-togethers all weekend long and we still have Labor Day coming up. I think it's fun to show your national pride all through the warm months with bouquets of flags or red, white and blue fresh flowers such as hydrangeas and roses or sparkly wreaths as I do. Here's a fun dessert I made with my grand-girls, who are visiting for a few weeks. It's easy and fun for them to make, while giving them a little history lesson on the symbolism of Old Glory . I pretty much made up this recipe from several old ones I have, so there are no strict measurements.
for the cookie dough crust/base, I used two packages of store brand refrigerated Sugar Cookie dough. Using a small rectangular cookie sheet, greased, spread the softened dough on the sheet with your fingers, as even as possible. Bake at the temperature recommended on the package but for a longer time or until nicely browned. Allow to cool completely.
for the icing, I combined two packages of cream cheese, softened, a teaspoon or two of vanilla and a touch of fresh lemon juice, along with enough powdered sugar to make the icing. Spread a layer on the cookie cake.
Slice some fresh strawberries long wise. And I used fresh blueberries, that had been picked earlier and frozen. Let the little ones decorate the cake in a flag style. Use your remaining icing to pipe around the stars and stripes and edges. Don't stress if they don't get it even. They are having fun! Everyone loved this! It taste so good and we like to pretend it's healthy with the added fruit. Enjoy.
Hope your 4th was the Best! xoxo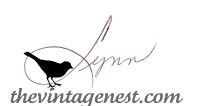 m
~ Add Something Special To Your Home ~
your place for affordable vintage flair
Parties
French Country Cottage ~ Friday, BNOTP @ Metamorphosis Monday, Coastal Charm~ Tuesday, How Sweet the Sound ~ Saturday, Common Ground ~ Friday,

No Minimalist Here ~ Thursday, Shabbilicious SAB ~ Friday, FMFPTY ~ Treasure Hunt, WIW ~ Ivy & Elephants, Pin-It @ Glitter, Paint & Glue, Grey Day Thursday at Petite Michelle Louise