A

dded a new page to my blog recently, Re-imagined. Just high-lighting a few of the projects I have done the last two years or so. It's an easy way to find them instead of using the "search" tab on the sidebar. Hope you'll check it out. So on today's blog post, I thought I would show you some things I have done around our home, re-purposed or re-imagined if you will. :)
I use an old restaurant menu holder as a way to display pretty cards that I receive in the mail. I can't bear to just toss them out. This way I can enjoy the card for a while 'til another comes. This one happens to be from a dear customer of mine. :)
This was an old standing ashtray at one time. The base was broken off so I just stuck it down in the soft dirt. It now functions as a bird feeder. The birds think the scrolly design and chippy, rusty paint is wonderful. How do I know? Well, ......the birds and I have a wonderful conversation every morning. :) They told me so.
An old carpenter's tote, re-imagined as a "by the sink" holder for those everyday boring essentials. Makes it ever so much more interesting, don't you think? I especially love the old white and red paint and that little holder on the side, now holding my "have to have" straws.
A piece of old tin.....normally just tossed.....made a cute sign for my front porch. ( no one pays any attention to it!) :)
Old ironstone turned into art work. Old pieces that are not sound, such as having a major crack, work well for this project. My friend made this piece and you can imagine how much I love it.
So many of us use books as risers, but why not make them more interesting by covering them in old papers. These I did with old sheet music that has that gorgeous old, mellow patina. These were some of my old college books. Probably getting more use now than they did years ago. :)
Storage....no matter how big the house, it seems we all need more storage. I use big and small old trunks as well as suitcases. This stack fits neatly under my old, small farm table and makes a great place to stash magazines and all my notes I am forever making, without cluttering up the family room,
I am fond of keeping the silverware out of the drawer and stored on the counter top. It seems so Frenchified. :) non? Here I have them plunked down in a white, rusty caddy. So easy to get to.
A vintage European canister I recently found, not an entire set, but just this piece. Makes a fabulous flower vase. This old piece will be going on The Vintage Nest website for sale. Love it!!
Always be on the look out for unusual pieces that can be re-imagined and displayed as art work. This antique store front sign is one of my most prized possessions because it has New York and Chicago in cool graphics at the bottom. A lot worn off and hard to see in this photo, but these two cities are where my sons now live.
Perhaps one of our biggest endeavors at re-purposing and re-imaging is our chic hen cottage. It was once a hand made child's gingerbread play house. Made by their grand-father for two little girls, who are long ago grown up and sold by the parents who were moving and down-sizing. Our chicks love their home.
Old bird cages, with missing parts, can be re-imagined all kinds of new ways. This hangs in the old dogwood out back. Now a cottage cute wind chime. Old tea cups, tiny vintage vases, a china bird, candle votives and beads all chime together to make the sweetest sound.
Want to hear what the birdcage chimes sound like? (sure hope this works, ..... never done it before :) Be sure to turn up the sound on the video clip. Have a wonderful week....see you soon. P.S. I am marching down town this week to look at new computers. This one is giving me fits! :(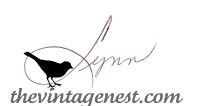 ~ Add Something Special To Your Home ~
your place for affordable vintage flair
Parties
French Country Cottage ~ Friday, BNOTP @ Metamorphosis Monday, Coastal Charm~ Tuesday, How Sweet the Sound ~ Saturday, Flaunt it Friday,

Shabbilicious SAB ~ Friday, FMFPTY ~ Treasure Hunt, WIW ~ Ivy & Elephants, Pin-It Thurs. @ Glitter, Paint & Glue, Grey Day Thursday at Petite Michelle Louise, Show and Tell Friday