We all call it her secret garden and it truly is the most charming cottage garden you will ever see. She lives in a town house with just a tiny space for a garden and my goodness, has she ever made use of her personal spot on this earth! Let me first take you thru her arbor, covered with miniature pink roses and twinkle lights. In fact, she has twinkle lights everywhere, which truly makes it magical at night. I hope you will come away with some ideas with this tour of my sister's special place (and ours too). (thank you Deb for allowing me to share your garden. She is also the photographer) Maybe next time she will let me photograph her sweet screened porch. Oh the vintage pieces you will love!
Can you stand it?
this red metal rocker is starting to weather to a beautiful pink....will she repaint it? ...not on your life :)
she collects the old blue Ball jars and like me, she loves her old terra cotta flower pots with the patina of green moss and leached soil minerals
IDEA: Did you notice her rugs..She has several layered rugs in one outdoor area, which gives pause to think it's a separate little room. Love that she put the rugs over white rocks
that gorgeous french wire table was a find at Luckett's Virginia.
this charming birdhouse was a find at Luckett's Spring Market
thank you for dropping by today.....see you soon with a fabulous recipe for Fall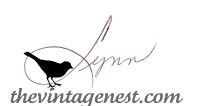 ~ Add Something Special To Your Home ~
your place for affordable vintage flair
Fishtail Cottage's Thurs. Garden Party, French Country Cottage ~ Friday, BNOTP @ Metamorphosis Monday, Coastal Charm~ Tuesday, How Sweet the Sound ~ Saturday, Flaunt it Friday, Shabbilicious SAB ~ Friday, FMFPTY ~ Treasure Hunt, WIW ~ Ivy & Elephants, Pin-It Thurs. @ Glitter, Paint & Glue, Grey Day Thursday at Petite Michelle Louise, Show and Tell Friday, Kathe with an E Tuesdays, Tuesday Garden Party @ CreativeCountryMom