I was thrilled to be asked to be a part of Sherry's Thanksgiving Vignette Party. I love vignettes and can "play" for hours creating one. Thank you Sherry and please visit her blog
No Minimalist Here

for more fabulous Autumn displays. Because I will be visiting elsewhere for Thanksgiving this year, I only did a few tiny things in the house but I did get into it with the outside of my home, so without further ado....let's go.
this rusty crusty cast iron urn is so much fun to decorate every season. A pumpkin topiary with magnolia and acuba leaves for this season's theme
Another urn, with a decided French theme, gets a big fat white pumpkin and green moss
Okay.....I did do just a little in the house :) ....a few tiny pumpkins scattered here and there. This one sits atop my latest purchase of old ironstone
the vintage twisted cast metal fern stand holds a tall stately pumpkin along with some found field antlers
at the top of the drive, another vignette greets our visitors
an unusual Autumn wreath created from new/old country store stock of stove pipe parts. I loved the rustiness of the old piece and as soon as I saw them at auction, I knew exactly what they would become. They all sold in my booth but one. If you want, just holler.
By the lamppost at the bottom of the walkway, the bicycle gets new flowers every season. I think Fall is my favorite.
the small acanthus leaf shelf, I ordered from Ballards years ago. It holds a sweet single item every season by the front door.
And lastly, not a vignette, but I wanted to share a Thanksgiving with you we celebrated several years ago outdoors. If you ever get the chance and the weather permits, have your feast outside, like the pilgrims did. I watched the weather for two weeks. Our weather can be warm or snowy for Thanksgiving, but that year it was perfect for dining outside. I used some raggedy old quilts as the tablecloths with white pumpkins, osage apples, and branches for the centerpieces with some old gold pottery pheasants. The appetizers were simple .....just baskets of unshelled Virginia peanuts. The guests enjoyed them and just tossed the shells in the yard. :)
Thank you for letting me come into your home today. I am so grateful for you, my readers. HAPPY THANKSGIVING. x0
Below is a list of the bloggers participating in this fabulous party. Please visit each and every one of them for some fabulous ideas and fun eye candy.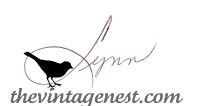 ~ Add Something Special To Your Home ~
your place for affordable vintage flair
Fishtail Cottage's Thurs. Garden Party, French Country Cottage ~ Friday, BNOTP @ Metamorphosis Monday, Coastal Charm~ Tuesday, How Sweet the Sound ~ Saturday, Flaunt it Friday, Shabbilicious SAB ~ Friday, FMFPTY ~ Treasure Hunt, WIW ~ Ivy & Elephants, Pin-It Thurs. @ Glitter, Paint & Glue, Grey Day Thursday at Petite Michelle Louise, Show and Tell Friday, Kathe with an E Tuesdays, Tuesday Garden Party @ CreativeCountryMom