While visiting my family in the burbs of Chicago, I had a meet up with some fabulous bloggers. We met for breakfast and then went to the cutest shop in Arlington Heights, Illinois. Oh please, if you get the chance, please visit this charming shop, loaded with charm, personality, creativity, unique vintage and artisinal good. I will show you what I bought in my Christmas Tour post but now let's look at some photos of the best little shop!
So much to see!!
Isn't this the cutest thing? Use it to store your holiday cards in is just one way to use it. Put it in the bath to store extra tp. Endless uses for this. If the airlines weren't so strict these days, it would have come home with me. :) Bah humbug!
I have seen lots of deer around this season, but none as cute as this.

I love vintage candles.....so so cute. Displayed on this rusty forest green tray with antlers, it makes the sweetest vignette.
Another charming display.....stars of all kinds hanging from an old bed spring
You can never have too many angel wings and I will never get tired of the beautiful old dress forms. There was a sign in the shop that said " Feathers are reminders that angels are always near." I like that.....don't you?
Me you know.....but that other pretty lady is Janet, the owner of this delightful shop and all its goodness. Thank you Janet for allowing me to "crash" your shop and anyone out there that lives close by, please visit Janet's shop, LUCKY JUNK. I promise, you will love it.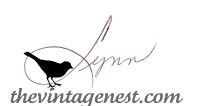 ~ Add Something Special To Your Home ~
your place for affordable vintage flair
Blog Parties You Should Visit :)
Fishtail Cottage's Thurs. Garden Party, French Country Cottage ~ Friday, BNOTP @ Metamorphosis Monday, Coastal Charm~ Tuesday, How Sweet the Sound ~ Saturday, Flaunt it Friday, Shabbilicious SAB ~ Friday, FMFPTY ~ Treasure Hunt, WIW ~ Ivy & Elephants, Pin-It Thurs. @ Glitter, Paint & Glue, Grey Day Thursday at Petite Michelle Louise, Show and Tell Friday, Kathe with an E Tuesdays, Tuesday Garden Party @ CreativeCountryMom