Though not an expert, I have been buying and selling vintage and antiques since I first started homemaking. That's a long time! That means, my first home was an apartment and I furnished it with inherited and hand me down furniture, painted and revamped for a new look, just like the trend that is going on today. Not long after that, I started going to auctions, looking for steals and deals and not long after that, I started selling. I do not sell any one particular thing or decade but mostly sell what I love and what is current in the decorating magazines. I would love to share with you a mini series on the beauty of blending the old with the new and what I have learned.
TIP #1
Harmony in the home takes precedence over conformity. It should contain an achievable mix of rare sought after treasures and every day items. Having a mix of cultural, historical, colors, shapes, and materials add a personal touch that successfully achieves a home, not a house.
DON'T CHOOSE: My own home is of contemporary style with skylights and odd rooms. Yet it is decorated with a mixture of antique, vintage and some contemporary. Do not think of your home as a traditional, period or modern. A Barcelona chair is just a take on an antique Roman piece. Contemporary furniture did not just appear from nothing. If you look closely at what is modern, you can identity classics such as the wing chair. A friend once told me, there is nothing new under the sun and she was so right. The key is to focus on the classics of time yet bring in a new edginess to a piece such as a bold pop of color on a vintage chair. Bring in just a hint of modern design and don't be afraid. An eclectic mix is not a mistake but a picture of your style
An example of "mixing the old with the new" in my own home is this fan back metal chair, I found in an consignment shop years ago. I loved the color and the style and the juxtaposition of the piece with my more euro and traditional type pieces. Dressed in a simple cream velour and topped with a very vintage needlepoint pillow. Along side and under, sits another of my vintage pieces, a life size dog, once a store fixture. The whole vignette is unique, different, modern, vintage, and carries a piece of my own personality.
~~~~~ See you Wednesday evening 7 pm for Share Your Style party right here ! ~~~~~
~~~~~ New Week Tipe #2 - Electicism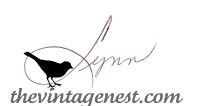 ~ Add Something Special To Your Home ~
your place for affordable vintage flair
Joining these parties ~~~ Come on over and share the fun!
Fishtail Cottage's Thurs. Garden Party, French Country Cottage ~ Friday, BNOTP @ Metamorphosis Monday, Coastal Charm~ Tuesday, How Sweet the Sound ~ Saturday, Flaunt it Friday, Shabbilicious SAB ~ Friday, FMFPTY ~ Treasure Hunt, WIW ~ Ivy & Elephants, Pin-It Thurs. @ Glitter, Paint & Glue, Grey Day Thursday at Petite Michelle Louise, Show and Tell Friday, Kathe with an E Tuesdays, Tuesday Garden Party @ CreativeCountryMom, Vintage Inspiration Tuesday at My Salvaged Treasures,
Project Inspired Monday at An Extraordinary Day