If I don't get a good night's sleep, it shows. It's not pretty and I feel and look like a beast. You spend half your life in bed, so your sheets should be the best you can afford. Softness and a good thread count is a must for me.
I was recently asked by Perfect Linens.com to "test sleep" their linens. I chose the Second Skin, their most supple sheet in the crisp white with the gorgeous simple blue double satin stripe. Very elegant and classy. I loved them!! Like fine antiques, the ability of a sheet to improve with age is an indisputable characteristic of a good sheet, offering even more pleasure as times goes on.
Perfect Linens test hundreds of sheets to find the best ones for us, so we don't have too. They currently offer 5 products, so shoppers can be assured they are getting the Best of the Best, simple and easy. They are the most generously sized sheets I have ever seen. Even my husband noticed how nice they are and he never notices anything. :) The over-sized sheets ensure the pretty embroidery can be turned back for display and they fit very deep mattresses. They are airy and don't cling and like turning the pillow to the cool side in the middle of the night, these sheets are always cool.
As a thank you to my readers, Perfect Linens.com is offering a generous $50.00 discount. Just type in VINTAGE 50 when you place your order. Believe me, you will love them and will feel like a beauty...not a beast when you wake up. P. S. Did I tell you their items are beautifully packaged with impeccable service.
Hope you are having a wonderful day. xo
(Disclosure: I was given a set of sheets to review, however, all thoughts and observations, and good night's sleep are my own)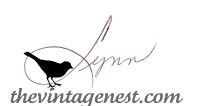 ~ Add Something Special To Your Home ~
your place for affordable vintage flair