Nothing tickles me more in mid-summer than to find a blackberry patch, ripe for the picking and undiscovered by others. Growing wild in brambles along river banks or the edge of woodlands, we actually have some bushes growing along our property line but the wildlife always has first pick. I was delighted to find a sizable patch several weeks ago in a very accessible place. ..... meaning I didn't have to wear winter clothing and high boots to pick them, without being attacked by unsavory insects. I picked enough for several desserts and froze a pint or two.
Today I want to share a recipe that's so easy and delicious and I am sure if you bought it, it would cost a small fortune. :) I don't have exact ingredients as I concocted this from several recipes and my own "whatever sounded good".
I used a frozen pie crust, easily found at your local grocers. Let it thaw a bit and then place it flat on a cookie sheet on a piece of freezer paper.
One cup of rinsed blackberries and one cup of cut up peaches were the simple fruit ingredients. Place in a bowl and mix in 1 Tablespoons of flour and 1/3 cup sugar, and cinnamon to taste. Put the fruit mixture in the center of the dough and bring the edges up over the fruit, leaving the center uncovered. Dot the fruit with some pieces of butter and sprinkle with sliced almonds. I then do an egg white/ water wash on the crust and sprinkle with sugar. Bake until golden brown at 400 degrees. Serve warm with a dollop of fresh whipped cream or scoop of good vanilla ice cream. Now don't tell anyone, but I have been known to have this cold for breakfast......I mean, it has fruit in it right? :)
xoxo Have a wonderful weekend and I hope you find your own personal blackberry patch!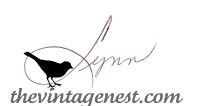 ~ Add Something Special To Your Home ~
your place for affordable vintage flair