Come see what's new in The Vintage Nest booth at The Lazy Daisy Shop in Midlothian, Virginia. I spent a day last week re-vamping for the Fall season. Not quite finished yet, but wanted to show you what's new.......found objects, refreshed vintage, and my own creative endeavors.
Should something in my booth peak your interest, shoot me an email for price and shipping. Glad to meet your request if it's easily shippable. :)
my booth sign dressed up for the season
my handmade velvet pumpkins finished topped with organic pumpkin stems, nestled in the charming vintage child's toy bed......perfect for display
vintage shoe form......a fabulous piece for Fall decorating
the unusual.....a wreath crafted from old plumbing supplies and a glamorous mummy
Autumn just seemed like the perfect time to display horse memorabilia in the booth.....1950's trophy ribbons, one -of-kind pottery horse, a gorgeous vintage horse poster, rusty old horseshoes and more
Fabulous vintage 50's saddle shoes.....don't you just love it?
a country white farmhouse work table with original paint, kitchen dish towels, handmade by moi, an antique child's toy cart and a sweet chick feeder. I can just see this feeder filled with "hen and chicks" succulents....can't you? Old seed packs finish the vignette.
Combining the old with the new.....an antique floor lamp sports a new contemporary lamp shade
Love the creamy white spools of thread in this old fruit basket
An old violin........what a fun piece to add to the decor and a better look at the vintage horse poster
old books are such a stylish decorating element and this one with its gorgeous old patina and marbleized cover just screams Autumn. And antique door knobs add an element of surprise in the decor. Plop one down in a found bird's nest for a bit of fancy.
~~~~~~~~~~~~~~~~~~~~~~~~~~~~~~~~~~
thanks for stopping by The Vintage Nest today.....always happy to see you and I love your comments! Pinterest lovers always feel free to
pin.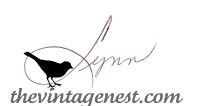 ~ Add Something Special To Your Home ~
your place for affordable vintage flair