Welcome to the 71st Share Your Style party. Excited for all of you to be here and to see all your fabulous inspiration. My project for inspiration this week was a make-over on a vintage mannequin. She was on a sliding up and down stand, which I loved, so she could be a table top or standing piece. Problem was, she had been out in the elements for quite some time and needed a good cleaning. When I put bleach on her to remove some black mold her cloth covering disintegrated ....oops....but to my delighted surprise, underneath was a papier mache form which I loved! So, I cleaned and lightly sanded that, leaving a bit of the old white tape. I covered her bodice in a vintage cream colored lace tablecloth. To her lower torso I applied an antique French letter with Mod Podge and also put a wash of Mod Podge over the entire papier mache torso. Adding a vintage 1940's satin belt from an old dressing gown I had and a paper flower with a center piece of old jewelry completed the look. I adore the way she turned out. I love happy accidents. She will go into my booth soon.
Welcome to Share Your Style!
I'm Julie from Little Farmstead,
and I'm your host this week.
So happy you're here on this first week of summer!
When you link to our party, your post will be seen on all five blogs below!
Recently on Little Farmstead, I shared:
New Shiplap Above Our Fireplace (and asked if you'd keep it natural or paint it white?)
An Inspiring Home Tour featuring Rene of Painted Goodness
A Camping-Inspired Rustic Table Setting
Now on to the features from last week's party!
Domestically-Speaking shared this adorable DIY Painted USA Flag Pallet Sign...
I could spend some time here, how about you?
Sawdust Sisters shared a great tutorial for their DIY Entry Way Plank Wall with Shelf. You'll want to check out the before and afters of this wall. They added a serious dose of character!
I would love to order make these Deconstructed Burrito Bowls brought to us by
It's party time! We can't wait to see what you've been up to this week.
Please remember to include a backlink to this party so that you are eligible to be featured.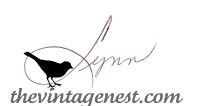 ~ Add Something Special To Your Home ~
your place for affordable vintage flair