Welcome
to The Vintage Nest blog and to our 89th Share Your Style linky party. I apologize for not being around last week, but I had an excellent excuse for being MIA. Because of a disease of the small blood vessels, my husband had total renal failure. Being on kidney dialysis seven days a week for three years, very much, as you can imagine, was a major life style change, but a life saving one. And for that we are grateful. Last week, we got the amazing news, that the hospital had a donor kidney for us. We were almost in disbelief, it had been such a long time. My inspiration this week, comes from all those wonderful, caring people who donate their organs, a most precious gift, to save the life of another. The prayers, kind sentiments, and acts of kindness, from friends, family and total strangers, inspires me to return the favors, always have a smile for everyone, and always be kind; you never know what another person is going thru until you walk in their shoes. The photo below is my husband, while in the hospital, getting a visit from a puppy dog.
xoxo Lynn
Hello everyone!
Welcome to the 89th weekly Share Your Style Party. I'm Kelly from The Essence of Home and will be your host this week. I'm stepping in for Barbara from 21 Rosemary Lane due to a family emergency.
When you link up here, your post will also show up on all of these blogs at once!
There were so many great link ups last week. Here are a few features.
All Because She Saved
shared an easy instant Russian tea mix recipe which would also make a darling gift over the holidays. She includes packaging ideas as well.
My Love for Words
shared some creative family Halloween costumes. With Halloween coming up next week, these costumes will give you plenty of inspiration if you're trying to come up with something original.
Twelve on Main
shared how to make industrial pipe shelves. They're all the rage right now if you like industrial style decor. I've seen them on Fixer Upper before too.
If you were featured, please add our button to the side bar on your blog!
Now, it's time to see what great things you have to share with us this week! Please add a link back to this party on the post you are linking up.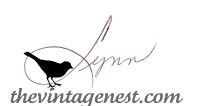 ~ Add Something Special To Your Home ~
your place for affordable vintage flair